Technological History
Since its establishment, we have promptly introduced the latest technology all the time, and responded to our customer's needs. That makes a spirit of [ challenging actively without being afraid of running risk] among our younger technicians. We will continue to make progress for the development of both technique and research which will be needed in new epoch , maintaining those challenging spirits.

Accumulated Results of Developments
(Processing technology introduced by the company as the first in plastic industry or as the top group)
1940.
Thermosetting molding
1978.
Curved hot stamp
1948.
PVC pipe extrusion
1978.
Multicolor paint
1951.
Injection molding
1979.
OverLay Processing
1961.
Large washing machine, EPS
1981.
UV coating , In-mold stamping
1964.
Plating on plastics
1988.
Gas counter press
1965.
Low expand. molding
1989.
EMI shield plat
1967.
Thick blow molding
1990.
Gas injection molding
1969.
FRP Marble
1991.
High Hollow molding
1973.
Pad printing
1992.
Sponge insert molding , Fine porous molding
1974.
Double color injection
1995.
Part of High Hollow molding
1976.
Sheet insert molding
2000.
Pulp Injection Molding
1977.
Wiping painting , Leather insert
Accumulated Results of Developments
---

Eco-Technology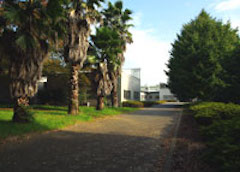 ♦ Pulp Injection Molding
The recycling of plastic products has become a social issue. We have made use of comprehensive plastic processing technology fostered over the years, to develop "PIM (Pulp Injection Molding)" technology to mold paper instead of plastic, to make new products with properties the same as plastic.
---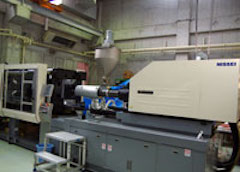 ♦ PIM Technology: From the Start of R&D until Today
We began research in 1995. By 1998, we had obtained a patent. We began mass production in 2000, and we have been engaging in research in collaboration with Yokoi Lab. of the University of Tokyo and NISSEI PLASTIC INDUSTRIAL CO., LTD., since 2005.
---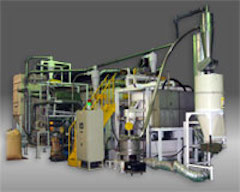 ♦ Eco Recycle System
Metals are removed from PP (polypropylene) resin recovered from discarded household electrical appliances. After processing to remove contaminants, the resin is cleaned by original cleaning equipment and cleaning fluid (made of natural substances), and turned into recycled resin clean enough to clear food sanitation laws.。
---

Development of Fundamental,Unique Technology
We lately concentrate on not only introduction of new technique, but also development of pioneered basic technique, aiming at more originative development. The topics below are example.
・diversified and stable molding technology
・Low pressure clamping
・Super hi-cycle molding
・Original CAE
・Hi-temperature injection
・Low pressure injection
・Super cooling technology
・Molding Assist Materials
---

New Processing Technology
Centered on the plastics processing industry, Daiho has been actively involved in developing new processing technologies. The company has already acquired patents, or has patents pending for technologies, including those listed below.
・In-mold coating
・Hollow injection
・Mold surface rapid heating method
・Heatproof duct
・Mold multi-cooling
・Rapid heating and cooling of mold surface
---

Latest R&D Facilities
We also greatly concentrate on the introduction of equipment in research and development field. The followings are the main equipments or planned equipments to introduce.
◆ TESTING & MEASURING
・Injection machine for test and research
・Molding analyzer
・Thermo-graph
・Fourier transform intrared spectroscopy
・Tensile test machine
・Surface roughness meter
◆ TESTING & MEASURING
・Material Mixer
・3-D Measuring
・Isothermal & Hydrostat
・Oven
・Milling Machine
・Lathe
◆ SOFTWARE
・Moldflow
・Mold thermal analysis
・Return Analysis
・Structural analysis I-DEAS
・3-D CAD Moldflow
---

Highly Expected Themes Technology Developments
The products development harmonized with environment
・Development of compound materials for recycling and its processing
・The proposal for a shape of products which could keep the stronger points of both recycling and basic view.
・Establishing information technology
・Establishing network online system